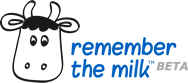 I use a computer for many hours every day, so when an internet tool comes along that helps me organize, I'm psyched. Recently, I have been very impressed with what I find to be the internet's most powerful TO-DO list system: Remember the Milk. As usual, it's completely FREE!

A TO-DO list!? Powerful?!

Yeah. A powerful TO-DO list I tell you.

If your like most people, you have many areas that demands different sized pieces of your time pie. Work, family, exercise, hobbies, and school might make up a typical day for you. Even though these different areas are for the most part disjoint, they still make up YOUR time and YOUR life.

Remember the Milk (RTM) is a system that is capable of organizing all the things that you need to get done. At first glance, it's a TO-DO list. You sign up for an account, create some tasks, and then check them off as you finish. If you stop there, however, you might as well use a piece of paper and a pen. RTM has a very deep feature list that allows you to do almost anything you can imaging with your tasks. Like what?

First off, you can create multiple task lists for the different areas of your life. One for work, one for school, etc. You can assign due dates to each task, and when the day arrives for you to complete your task, it will show up on your "Today" page.


You can also attach locations to all of your tasks. Say, for instance, that you need to drive around town running errands. By attaching addresses to your tasks, you can visually plan out the routes by using the RTM maps feature. Check it out.



One of my favorite features, and what I believe makes RTM so powerful, is the ability to make "smart lists." Smart lists make it possible to dynamically manage your tasks using a search term. For example, let's say that you have many lists and tasks, but only want to view the tasks that are relevant to your car. By creating a smart list, you can have a dynamic list that only displays tasks that have the word "car" in them. The possibilities are endless with this kind of functionality.

If you work with others, you'd probably be interested to know that you can also share/assign tasks with/to other people. A friend of mine runs a fly fishing website called RiverBum, and needs to be able to assign tasks to his staff efficiently. RTM is perfect for this kind of situation.

What if you need to receive a TXT, email, or instant message when a task is approaching? It can do that too! Forgetting that something is due is no longer an issue for you flakes out there. There are many other features which I don't have room to explain here, but RTM has some great documentation and support forums. I would suggest reading their Frequently Asked Questions page to get started.

Since I have been using RTM to manage my tasks, my efficiency in getting things done has definitely improved. Give it a try by clicking here.